Most high-end properties on the Midpeninsula market have something special that sets them apart, whether it's acreage, unusual amenities or striking architectural features. But what about a property with 74 acres, seven houses, three swimming pools, extensive gardens, its own reservoir, and a Roman-style reflecting pool the size of a football field — not to mention that the main house was designed by legendary architects? That's all unique to Woodside's Green Gables estate, which is officially hit the market in February for $135 million — or more than 37 times the town's median home value of $3.6 million.
Green Gables' English country-style main house and gardens were designed by brothers Charles Sumner Greene and Henry Mather Greene, better known as Greene and Greene, celebrated architects of the Arts and Crafts movement of the 19th and early 20th centuries. The estate is rare not only for its design and amenities but also for its size and location. "One of the extremely unusual elements of this property is that it is so large," said Brad Miller of Compass Real Estate, who is co-listing Green Gables with Helen Miller and Kristen Gray.
"It's 74 acres, yet so close to everything, less than a mile from the town center of Woodside and freeway access to anything you want to go to in Silicon Valley. ... But you have tremendous privacy because of the sheer size of the property."
Miller recently talked to this publication about why the longtime family estate is for sale after more than a century, the types of buyers he believes might be in the market for such a unique listing and what could come next for the historic property.
Built as a summer getaway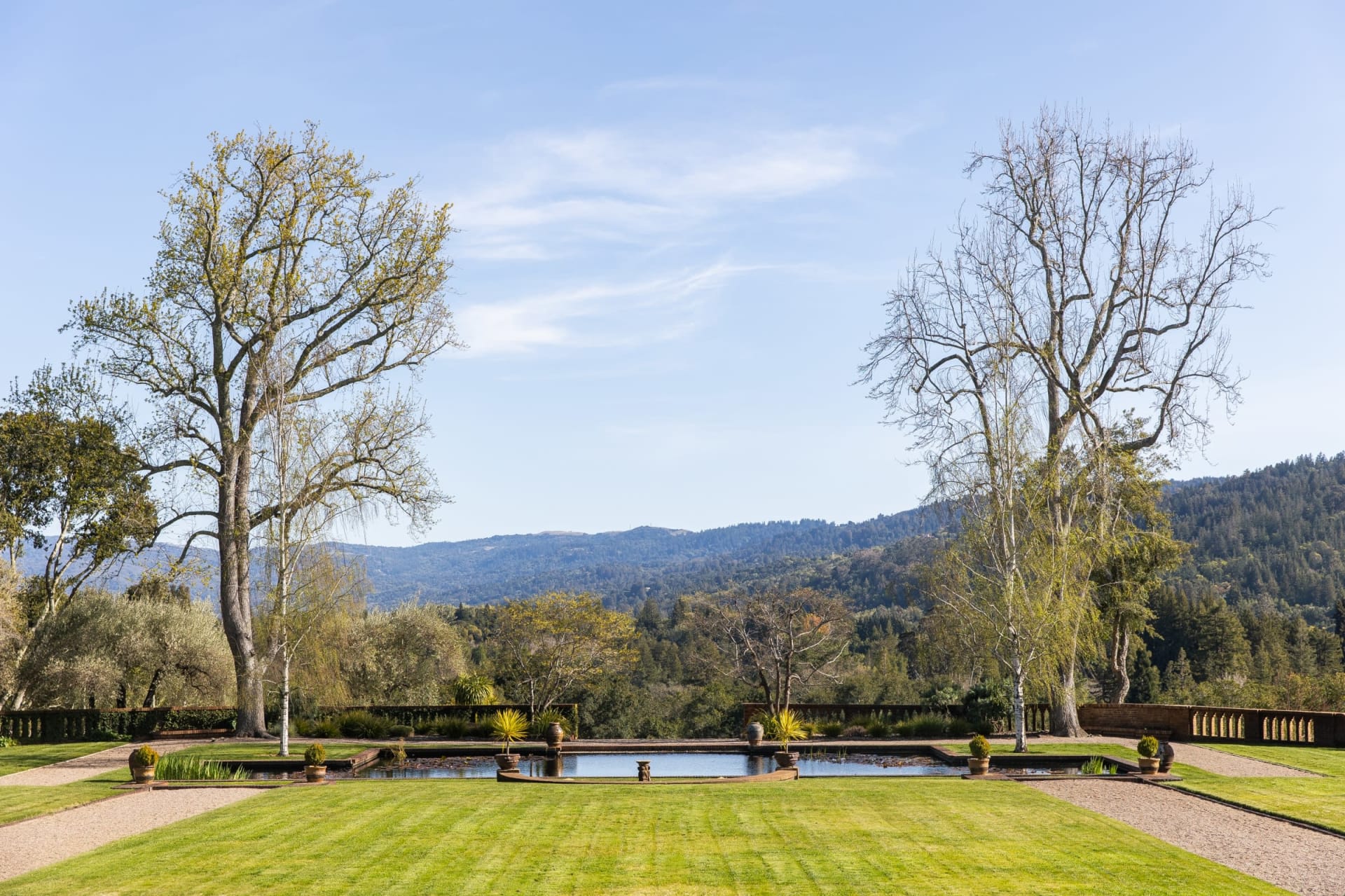 The estate, located at 329 Albion Ave. in central Woodside near the intersection of Albion and Manuella avenues, offers expansive views of the hills: The Greene brothers designed the main house to maximize the views of the estate's grounds and gardens. The Fleishhacker family has owned Green Gables for all 110 years of the estate's existence. It was built in 1911 by wealthy San Franciscans, banker and businessman Mortimer Fleishhacker and his wife, artist Bella Gerstle Fleishhacker, as a summer getaway.
About five generations of the family have owned the estate, Miller noted, and as time has gone on and the family has grown and spread out, the home is used more sporadically, prompting its sale. "It was used pretty actively in the early generations, but I think it is used a lot less so now," he said.
Green Gables was also up for sale in 2015 and 2018, but Miller noted it wasn't formally put on the market. In 2018, the family was reportedly seeking about $160 million for the estate. Even at today's lower asking price, the estate was the most expensive listing in California when it went on the market in February, according to Zillow. It ranks in the top 25 most expensive listings worldwide, according to luxury magazine Robb Report. This isn't the first time a Midpeninsula property has set real estate records. Nearly 10 years ago, Japanese businessman Masayoshi Son purchased a 9-acre property in Woodside's Mountain Home neighborhood for $117.5 million. The 2012 sale was, at the time, the most expensive home sale in U.S. history, according to Forbes. Son was Japan's second-richest person at the time of the sale. That transaction came on the heels of 2011's $100 million record-breaking sale in neighboring Los Altos Hills.
Recognized for its unique size, amenities
As for potential buyers for Green Gables, Miller said, "It's a pretty broad set when we think of potential candidates. It certainly lends itself to someone wanting a family compound that has multiple living options, and yet is very, very private." He also suggested it might offer guest accommodations for an organization like a think tank or an artistic retreat. And he noted that the estate offers potential for equestrian or winemaking purposes.
With the property's unimproved hillside acres, he said "it really seems to lend itself to a vineyard, with the orientation toward the sun and the size of the slopes." As it stands now, the estate's seven houses could offer a family a ready-made compound, albeit one with some unusually fanciful and historic elements.
In addition to the main house, architect Charles Greene lent his design talents to the estate's Tea & Dairy House, a rustic two-story stone building. It was built at Bella Fleishhacker's request as a place to host tea parties, and at one time housed a working dairy that processed milk, back when the estate had cows.
Greene is also credited as the designer of Green Gables' free-form swimming pool. Built in 1916, it's considered to be the first pool of such a design on the West Coast, and perhaps in the nation. Greene and Greene weren't the only famed architects that the Fleishhackers tapped to build out Green Gables: Among the estate's seven houses is the Wurster House, a six-bedroom, two-story residence built in 1933 and designed by renowned Modernist architect William Wurster.
Though some of the main house's rooms retain original decor, the house is after all, a family home, and families' needs change with the times. With that in mind, Miller said that he and his fellow listing agents consulted with Dan Garber of Palo Alto architects Fergus Garber for ideas on how some areas of the main house could be modernized. That includes potentially moving and expanding the kitchen, which is tucked "around a corner," to adjoin a great room and take advantage of views of the western hills.
Designated a lasting legacy
Though a buyer can make some updates, more drastic changes cannot be made due to another unique feature of Green Gables: a 2003 conservation easement with the Garden Conservancy that prohibits the property from being subdivided, restricts commercial use and limits expansion or replacement of the estate's buildings.
"It's one of their national showcase properties," Miller said of the Garden Conservancy. "The main intent was to work to preserve the main house and the core garden area of the property. And admittedly, it's a wonderful thing because (the property) is absolutely spectacular. "It does preclude you from subdividing the property, but I don't think the logical or likely buyer for this property would want to subdivide it anyway," he said, adding that the easement does offer a "surprising degree of flexibility on what you can do in certain core areas of the property."
That Green Gables has never changed hands may have helped preserve some of the home's original decor and furnishings, including pieces hand-carved by Charles and Henry Greene. The architects also designed some of the original fixtures for the estate, right down to ceramic planters that dot the main gardens. Three bedrooms in the main house boast decor and furnishings by famed New York interior designer Elsie de Wolfe, whose clients included Amy Vanderbilt.
To find a century-old home with some of its original elements, particularly furnishings, preserved is unusual, Miller acknowledged. "It's pretty rare, and it has a strong cool factor, because the furniture in those rooms just go so well with the style of the house," he said.